What is Radon?
Radon is the second leading cause of lung cancer which is why it is so critical to test for radon in your home. Radon is a radioactive gas that comes from the natural breakdown of uranium. All homes have some level of radon. The question is, how much? You can't see, taste, or smell radon. The only way to know how much radon is in your home is to test for it.
Testing is easy and inexpensive. Lung Sask offers long-term radon test kits called alpha track detectors which are recommended by Health Canada. Radon levels in a home fluctuate which is why it is important to test over a longer period of time to receive the most accurate results. Health Canada recommends that home owners do a long-term radon test for at least three months during the fall or winter months.
Lung Sask is working in collaboration with The Saskatchewan Research Council (SRC) to provide homeowners across Canada with easy-to-use radon test kits. When you purchase your radon test kit it will be shipped to you and SRC will analyze your detector once the test is complete. That's right—the analysis is done right here in Canada. Many other detectors are sent out of country for analysis (meaning additional analysis and shipping fees).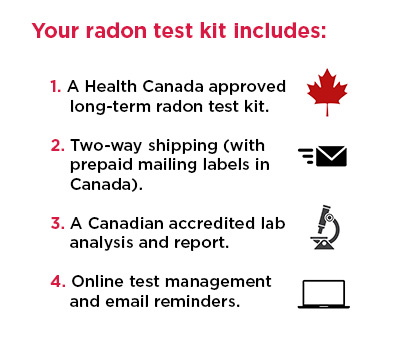 To learn more about radon and it's impact on your family, visit our frequently asked questions.