Despite the COVID-19 respiratory pandemic, our partners at SRC Environmental Analytical Laboratories are still able to analyse your radon test kits in manner that is both safe and responsible.
Please mail your radon test kit back after it is complete using the box and mailing label that your kit was purchased with. Before putting your radon test kit in the mail, remember to make sure it is registered with both your test start and end dates. SRC requires this information in order to complete your radon analysis and provide you with your test results.
Reduce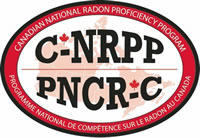 Techniques to lower radon levels are effective and can save lives. Radon levels in most homes can be reduced by more than 80% for about the same cost as other common home repairs such as replacing the furnace or air conditioner.
To help you find the best way to reduce the radon level in your home, find a radon mitigation (reduction) expert who has been certified under the Canadian National Radon Proficiency Program (C-NRPP) today.
---